Best Rank Tracking Tool you Should Know in 2023
Are you curious about the best rank tracking tool to help you know if your SEO efforts are good enough to rank your website higher in Google SERPs?
You must know which keywords perform better in organic search results to get better insight. Therefore, we have collected a list of the best rank-tracking tools to optimize your content according to Google's content strategy preferences.
The rank tracking software helps you create better content on your website, improving its ranking in search engine results pages (SERPs).
Semrush – Best rank tracking tool
Semrush is considered one of the most recommended ranking-tracker tools for conducting keyword research, competitor analysis, and technical SEO reports. Semrush keeps you updated with all the important keywords you can target for attracting organic traffic and Google ad campaigns.
These keywords are extremely important for making a more informed decision to stack up against your competitors because you can easily recognize trending topics and patterns in your target industry.
One of the most useful features of Semrush is position tracking; the position tracking feature lets you see how a keyword or domain changes in search engine rankings over time.
You can use this data to measure your campaign progress, spot/fix problematic keyword cannibalization, and identify which keywords work best.
Another notable feature is a historical ranking of the site's keywords over time; this feature helps you keep an eye on your keyword's day-to-day ranking.
Research highly profitable keywords with low competency.
Position tracking is SEMrush's most powerful tool, allowing you to monitor the daily rankings of a website based on your custom target keywords.
Check out high-quality backlinks of your competitors to gain better opportunity
Add up to 10 competitors to analyze content
Website audit to check SEO performance.
Complete the digital marketing tool kit for better content creation
Pricing: Semrush pricing starts at $119/month and offers a 30-day free trial period.
AccuRanker Rank Tracker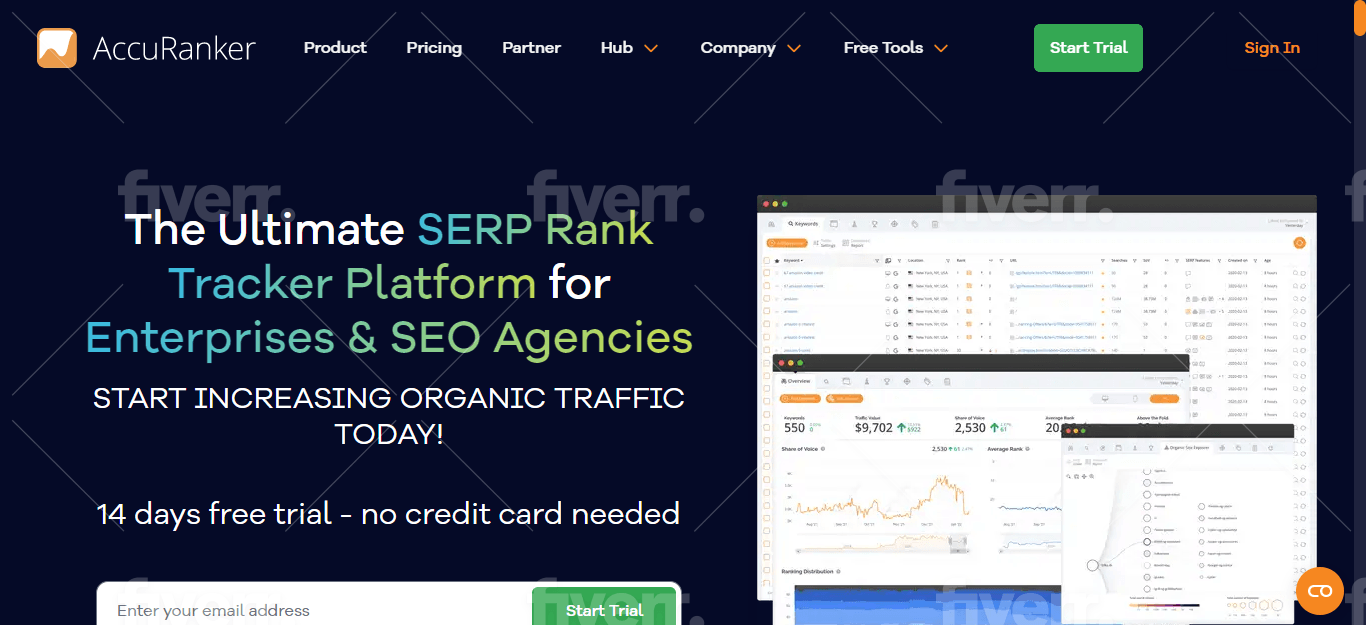 If you're looking for a rank tracker that's easy to set up, supports multiple search engines, and can track the performance of YouTube channels, then Accuranker is the best SEO rank-tracking software you need.
The AccuRanker keyword tracker works with multiple search engines, including those outside the United States, and indexes for both desktop and mobile devices.
Let's talk about some of AccuRanker's s key features:
Use different options to filter and segment the data into different sets
Create dynamic filters by combining various rules to tag your data automatically.
Get keyword research and competitor analysis done in no time.
Accuranker supports up to six different search engines. So, whether you're using Google, YouTube (or even Bing), or another site that ranks videos, Accuranker will work with it.
With AccuRanker's s tools for tracking rankings on YouTube and other sites, you can see exactly how well your video performs regarding views, shares, and more. You'll be able to generate automatic and manual ranking reports so that you can tailor their output to what works best for each channel!
Accuranker generates automatic and manual ranking reports so you can tailor their output accordingly—and there aren't any extra fees involved either. Let it work its magic for 14 days without providing payment details, and then check back for updates!
Pricing:  $99/month with 14 days free trial period.
RankTracker
RankTracker is one of the most popular tools for SEO and content marketing. The tool helps you to track ranking changes, analyze your competitors' rankings, see who's linking to you, and more.
RankTracker is a great tool for SEO, but it also has many other uses:
You can monitor where your keywords rank for mobile and desktop search engines. You'll also be able to track queries from non-US search engines and see average monthly searches for each of your tracked terms.
You can use RankTracker to improve your SEO strategy by seeing which keywords rank on page 1 of Google and how they do. If a keyword isn't performing well in Google, you can use RankTracker to find out why.
RankTracker can help you track performance at specific times throughout the year—for example, if traffic fluctuations after Christmas or February tend to be slow. This will help you plan for those months.
You can use RankTracker to find out which social media platforms your competitors use and what kinds of content they share on those platforms. You can then use this information against them so that when they share something on Facebook, you'll know that it will likely not do as well as your efforts.
Comprehensive overview of your ranking position: You'll see at a glance how many sites rank above yours for any given keyword. This allows for an easy way to identify where improvements need to be made so your site can move up in the rankings more quickly.
-Links from other websites: You'll also receive links ranking well for the same keywords as yours, giving you ideas about what kind of content should be published on your site next.
Pricing: $59/month with 7 day trial period
Ahrefs
Most leading SEOs recommend Ahref for day-to-day SEO tasks because you get everything related to SEO under one hood. Also, Ahrefs is very well known for its keyword research and backlink analysis, but its Rank tracker tool is also top-notch.
To get started with Ahref, you'll get two choices;
Setup your project manually by using the "add a Project" option
Integrate your Google search console with Ahref.
Both processes are straightforward and require no strings to set up your project manually. After that, you can add as many keywords as you like to track.
You'll get data like where your site ranks in search results, keyword difficulty, search volume, and your current and historical position of keywords. However, the disadvantage of Ahrefs seo rank tracking platform is that it updates your rank tracking after every three days, or you have to purchase a rank tracker pro addon to get daily updates.
Pricing: $99/ month, 7 days trial period.
Mangools (KW Finder)
Mangools or KW Finder is rank monitoring software pretty much known for keyword research; however, they have evolved a lot since their inception and added lots of functionalities and tools such as backlink analysis, a site audit tool, and a keyword tracker tool known as 'SERP Watcher.'
The SERP Watcher is pretty simple to use; all you have to do is to add your domain, select your location and then add the keywords you want to track. Then let Mangools do its work and wait for 30 minutes to get it done. You can set for only mobile or desktop search at a time to check your rank, but afterward, you can clone your project to include mobile or desktop versions. The downside of Mangool's rank tracking tool is that it only works with Google search results, and you can't track your keywords for other search engines like Bing or Yandex.
Pricing: $29/ month with 10 days free trial
Moz rank tracker
Moz is one of the oldest SEO software. It started as a blog where SEOs used to hang around and discuss SEO stuff; since then, they have upgraded their SEO software with all essential functionalities such as a keyword tool, on-page grader, site audit, and rank tracking tool.
Rank checking tool is just like any other standard rank tracking tool; you can start by creating a campaign, selecting your preferred location, choosing a search engine, adding keywords and a few competitors, and 'boom.'
The Moz rank tracking tool comes with other essential search engine optimization tools to measure keyword tracking. Also, you can check mobile indexing.
Pricing: $97/month with 30 days free trial period
Zutrix rank tracker
Zutrix is a full-featured automated rank tracker with an innovative feature of AI power that can help you with finding current trends, search volumes, CPCs, and keyword research tool. Don't get surprised if you haven't heard about Zutrix because it's only a year old, but it's a complete suite of SEO features.
Zutrix can instantly find what keywords your competitors are ranking for and send alerts whenever changes are noticed. Moreover, you can monitor location independently, tracking local, national, or international search engine outcomes.
Another worth-mentioning feature is the "Sensor" feature, a ranking change notification system that will notify you of any ranking change via email, telegram, or slack.
Go for Zutrix if you are looking for an advanced and intelligent way to monitor keyword rank tracking at an affordable price.
Pricing: $3/ month with 7-day trial period. This is the cheapest rank tracking software on the list so far.
Conclusion
The future of SEO tracking will likely depend on multiple elements. These top rank tracker tools promise accuracy, speed, and ease of use.
Gone are the days when there were only a handful of ranking trackers. Nowadays, you have more options than ever. The same principles apply to content marketing and properly tracking your site's progress in Google and other search engines. And with so many seo ranking tools on the market today, it can be daunting to find the right one for you and figure out which one will work best in the long run. Hopefully, our list has helped you narrow your choices down and will help you select the right tracking tool for your needs. We highly recommend using Ahref or Accuranker for the best rank tracking as these are the most accurate and powerful tracking software that most of the leading companies are using and getting results.