Best WordPress Hosting for High Traffic website in 2023: Tried and Tested
Are you planning on launching your own WordPress website or blog? If so, you won't want to neglect the all-important research into the best WordPress hosting for high traffic.
Trust us; there's a massive difference between average hosting platforms and the best WordPress hosting options.
In fact, there are a whole handful of differences that separate the best from the rest. I call them the 7 S's of best WordPress hosting: speed, security, scalability, support, space, server location, and SSL. Want to know more about what each of these factors means in detail? Keep reading!
We've analyzed and tested some of WordPress's most secure hosting setups, and we're happy to share our findings with you. Check the WordPress hosting service comparison table below for a general idea of how specific hosting companies stack up against each other. Then, if you want to dive deeper and get more information, follow through with the individual reviews.
| Name | starting Price | Uptime | Load time | Traffic per Month |
| --- | --- | --- | --- | --- |
| Bluehost | $2.95/ month | 99.98% | 1.24s | Unmetered |
| Siteground | $6.99/month | 99.98% | 0.52s | 10,000 per visit |
| Hostinger | $1.99/month | 99.96% | 1.18s | 100 GB |
| Hostgator | $2.75/month | 100% | 1.4s | Unmetered |
| DreamHost | $2.59/month | 99.98% | 1.18s | Unmetered |
| A2 Hosting | $2.99/month | 99.76% | 1.56s | Unmetered |
| WPengine | $30/month | 99.99% | 0.47s | 25,000 per visit |
| Flywheel | $13/month | 99.9% | 1.04s | 5000 per visit |
| Kinsta | $30/month | 99.98% | 1.23s | 25,000 per visit |
Best WordPress Hosting comparison table
So what are you waiting for? Let's get started and find the best WordPress hosting for your WordPress site!
Bluehost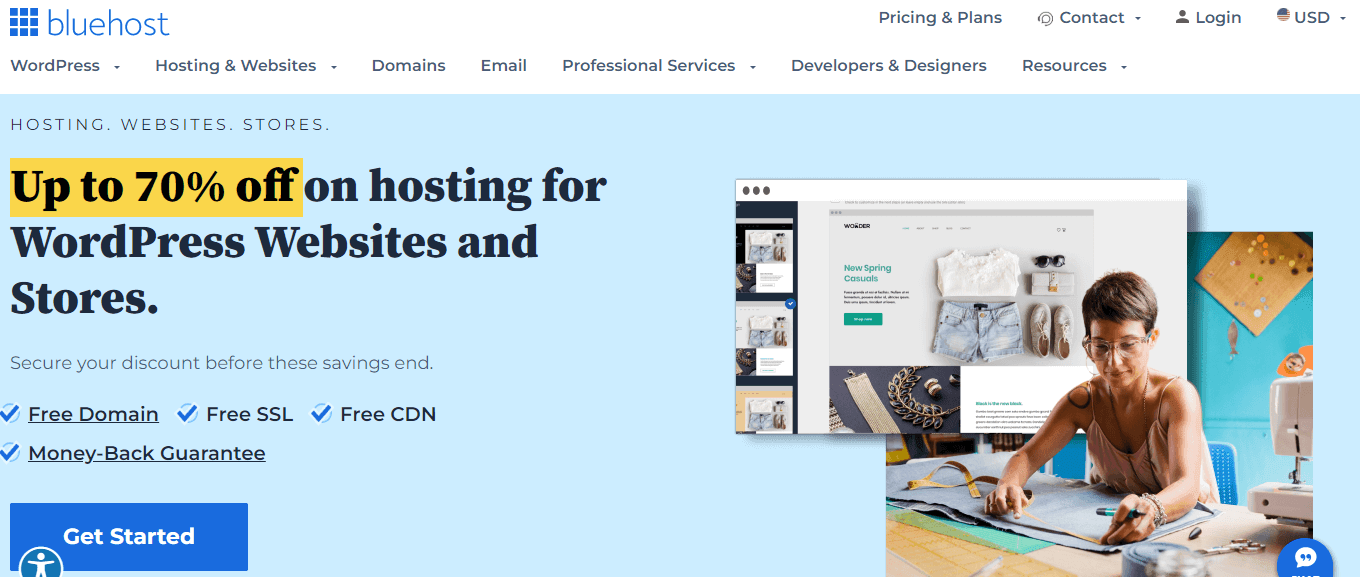 As one of the officially recommended hosts by WordPress, Bluehost has gained a reputation for being a reliable and affordable option for website owners of all levels. Bluehost is a feature-packed web hosting provider perfect for any WordPress website. With easy installation, excellent customer support, automatic updates, and advanced security features, Bluehost makes hosting your WordPress website a breeze. Here are some solid features that make Bluehost a top choice for hosting WordPress websites:
Easy Installation: Bluehost offers a one-click installation process for WordPress, which means you can set up your website in just a few minutes.
Customer Support: Bluehost has an excellent customer support team available 24/7 via phone, email, or chat to help you with any issues or questions.
Automatic Updates: Bluehost keeps your WordPress installation up to date automatically, ensuring your site stays secure and running smoothly.
Scalability: Bluehost offers various hosting plans to accommodate websites of all sizes, from small personal blogs to large business websites.
Performance: Bluehost has optimized servers and technologies like CDN and caching that help ensure fast loading times for your website.
Security: Bluehost offers advanced security features like SiteLock, which scans your website for malware and other security threats.
Affordability: Bluehost offers budget-friendly hosting plans that can fit any budget.
Bluehost's shared plans are an excellent option for WordPress websites that don't anticipate high traffic levels. Not only are they some of the most budget-friendly options out there, but you'll also get a $100 marketing credit towards Google Ads and Microsoft Advertising to help get your website off the ground.
Bluehost's pricing is a major selling point for beginners, with plans starting as low as $2.75 monthly. And if your website grows and requires more resources, don't worry. Bluehost's more expensive plans are the best WordPress hosting for high-traffic websites and offer the flexibility to create multiple websites and handle higher traffic levels without downtime.
With Bluehost's affordable pricing and range of options, you can confidently create a WordPress website that meets your needs without putting a dent in your wallet.
Siteground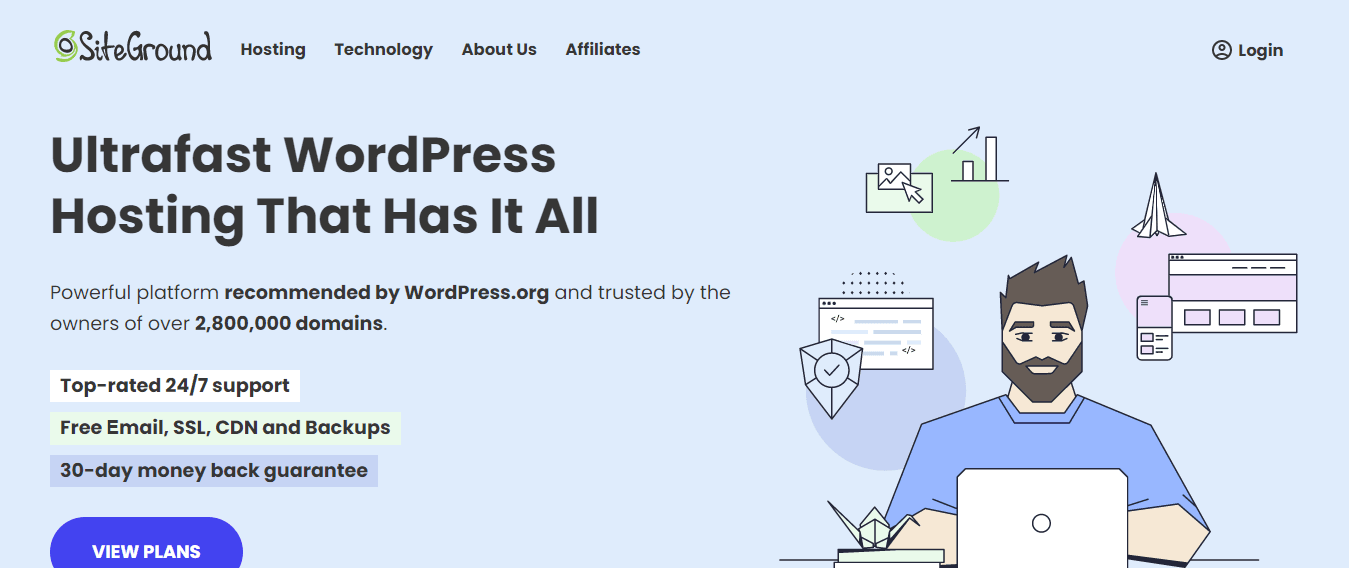 Siteground – This popular hosting provider is a top choice among WordPress users, thanks to its highly optimized plans and powerful yet user-friendly managed hosting services. WordPress officially recommends Siteground; therefore, it's considered the most secure hosting for WordPress sites.
Siteground's beginner-friendly features include top-rated customer support, comprehensive webinars and tutorials, and a free WordPress installation with your hosting plan. They even provide a free drag-and-drop website builder, giving you everything you need to create a beautiful and functional website.
Navigating your Siteground account is easy with a customizable dashboard that you can adapt to your preferences. And with automatic updates for WordPress, you can rest assured that your website is always running on the latest, most secure version of the platform.
While Siteground's expert WordPress support and top-notch features are a huge selling point, it's important to note that this is reflected in its pricing. WordPress hosting plans start at just $3.95 per month for the first year of service, with a renewal rate of $11.95 monthly. More expensive plans enable you to host multiple websites, with prices running as high as $11.95 per month (with a renewal rate of $34.95 per month).
Overall, Siteground is the best WordPress hosting for agencies and users who want powerful, optimized hosting and top-notch support. So why wait? Sign up today and take your first step towards building the WordPress website of your dreams!
Kinsta – Best WordPress hosting for high traffic
Searching for a fully managed WordPress hosting service that can handle high traffic volumes and provide exceptional performance? Look no further than Kinsta. This service is built on the powerful infrastructure of Google Cloud and is designed with beginners in mind, making it easy to set up and use. Because of its powerful cloud structure we highly recommend it for websites that require high traffic WordPress hosing to maintain the traffic spike.
Kinsta offers a user-friendly dashboard that focuses on daily website maintenance tasks and an extensive knowledge base with guides on WordPress-specific and general web-related topics. And when you need help, Kinsta's senior WordPress experts are available 24/7 via email or chat.
One of Kinsta's standout features is its automatic updates and daily backups, so you never have to worry about losing your data. While this service may come at a premium price starting at $30 per month, it's worth the investment for those who want a robust service with exceptional performance and support. So if you're ready to take your website to the next level, consider Kinsta your go-to hosting solution.
DreamHost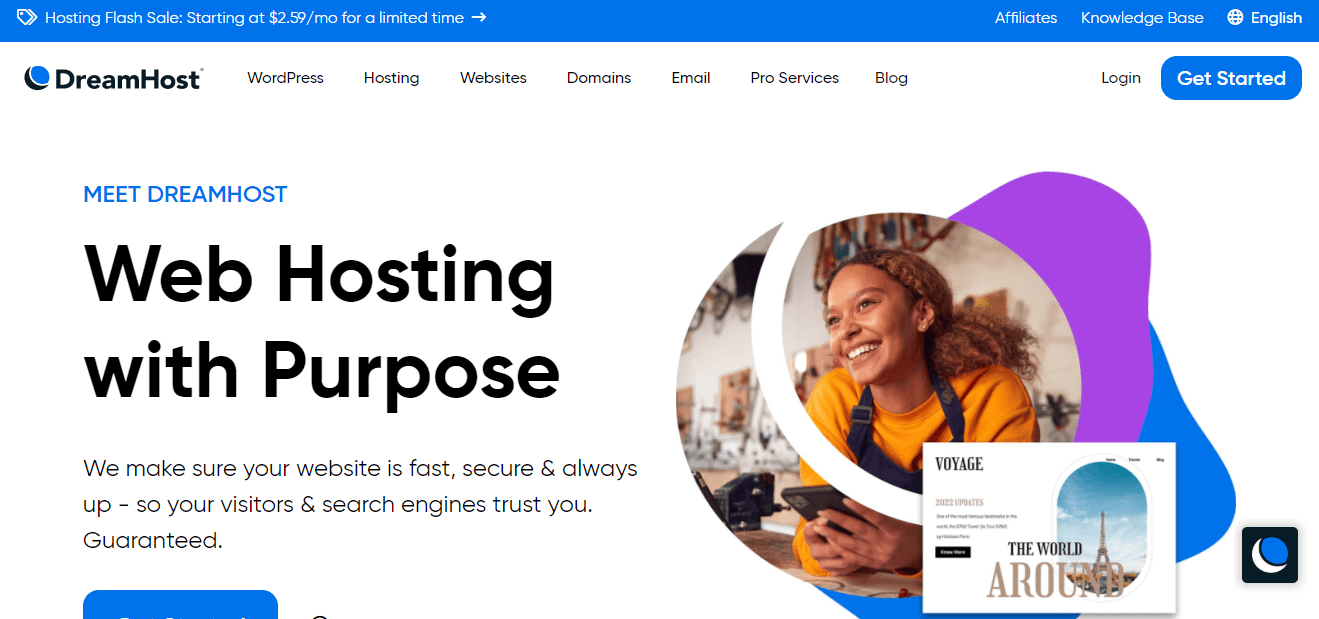 DreamHost is a web hosting provider that has earned the official recommendation of WordPress. It has gained popularity by offering a wide range of hosting plans with a 100% uptime guarantee.
DreamHost is especially beginner-friendly, boasting impressive features that make website creation and maintenance an absolute breeze. For instance, they offer a generous 97-day money-back guarantee, so you have plenty of time to decide whether or not you're satisfied with their service.
DreamHost's website builder, called 'Remixer', is one of the most useful tools. This website creation tool is free with any shared plan, allowing you to design and launch your website easily. Additionally, installing WordPress on DreamHost is a one-click process, saving you time and energy.
Another standout feature of DreamHost is its custom-made dashboard, which is more user-friendly than the traditional cPanel. The platform also has an active forum, a detailed knowledge base, and a vibrant community of WordPress experts on Twitter, so you can always find help when needed.
Furthermore, DreamHost automatically updates WordPress software for you, keeping your site secure and up-to-date without any effort on your part. On top of all that, you'll receive $100 worth of credits towards Google Ads when you sign up.
DreamHost is affordable, with WordPress hosting plans starting at just $2.59 monthly. For those needing more features and advanced support, the DreamPress plan is available for $16.95 monthly, offering free professional website templates, priority WordPress support, and much more
Flywheel
Flywheel is a web hosting provider that doesn't discriminate against non-technical users, although it caters primarily to web designers and creative professionals. Its goal is to make web hosting accessible to everyone and familiarize them with advanced concepts like staging sites and templates through its platforms Local by Flywheel and Blueprints.
We believe Flywheel to be one of the best WordPress hosting providers for beginners, with features like easy WordPress setup and automatic software updates, 24/7 customer support, and an intuitive dashboard that makes complex features super accessible. Flywheel offers over thirty premium WordPress themes and comprehensive documentation, including video tutorials, eBooks, and a blog with practical tips.
Flywheel's plans start at $13 per month for a single, straightforward website and include a free demo site that you only pay for if it goes live. The pricing increases to $242 per month for expansive eCommerce sites. If you want a designer experience without the hassle, Flywheel is an excellent option, even if you have to pay a little more.
WP Engine
Looking for a premium WordPress hosting service that guarantees top-notch performance? Look no further than WP Engine, our pick for the best WordPress hosting providers.
Yes, WP Engine may be a bit pricey compared to some competitors, but it's for a good reason. It's the most popular WordPress-only host in the market for a reason. WP Engine has spent years mastering the WordPress space to ensure your website runs smoothly and without any issues.
But that's not all. WP Engine also boasts quality support, with assistance available via their helpdesk, chat, and phone. Plus, with a 100% uptime guarantee and a load time of just 1.18 seconds, you can rest assured that your website will run smoothly, even during high-traffic times.
WP Engine's basic plan starts at $20 monthly, with 25,000 visits per month allowed. So, if you're looking for a reliable, high-performance WordPress host with exceptional support, WP Engine may be the perfect option.
A2 Hosting
Looking for a flexible and affordable WordPress hosting provider? Look no further than A2 Hosting! With plans starting at just $2.99 per month, A2 Hosting is one of the most budget-friendly options on the market.
One of A2 Hosting's standout features is its flexible pricing model. Unlike many other providers, A2 Hosting lets you pay monthly instead of forcing you to commit to a year upfront. And if you need to cancel your plan, no problem – you can do so anytime.
A2 Hosting also makes getting started with WordPress a breeze, with a pre-installed setup that lets you dive right in. And if you run into any issues, their 24/7 Guru Crew Support team is always available to help you.
While their uptime is not perfect at 99.76%, A2 Hosting's quick load time of 1.56 seconds ensures that your website will run smoothly and efficiently. Overall, we give A2 Hosting a solid ⭐⭐⭐/5 for their affordability, flexibility, and reliable support.
Hostinger
Looking for a budget-friendly WordPress hosting provider that doesn't compromise on performance? Look no further than Hostinger! This newer player in the game has already made a name for itself with its affordable prices and excellent features. And because of its affordability, its highly recommended as the best web hosting for nonprofit organizations, as they are looking for cheap sources to host their websites.
With plans starting as low as $1.99 per month, Hostinger is one of the cheapest hostings for WordPress users; Hostinger offers shared, cloud, VPS, and dedicated hosting options to suit your needs. You'll also get a free domain name and one-click WordPress installation to get your website up and running quickly.
And don't worry if you need help – Hostinger's support team is available 24/7 in over 20 languages. Plus, with 100 GB of bandwidth and an impressive 99.96% uptime guarantee, you can rest assured that your website will be running smoothly.
HostGator
HostGator is another most affordable webhosting solution. As one of the prime web hosting companies in the world, HostGator has a proven track record of providing excellent uptime and affordability to its customers.
While their entry-level plans may not have many WordPress-specific features, HostGator makes it easy to set up your website using their simple one-click installer. From there, you can customize your site to your heart's content in the WordPress dashboard.
And if you ever run into any issues, HostGator's support team is available 24/7 via live chat. While wait times can sometimes be long due to their massive user base, their friendly and knowledgeable staff are always willing to help. For a budget-friendly hosting option with reliable uptime, HostGator is worth considering.
The must-have 7 S's for a good WordPress Hosting
Here are the most important features of good web hosting that you must check out before signing up for a plan.
Speed: A good WordPress host should provide fast loading times to prevent visitors from leaving.
Security: The host should have security precautions and procedures to avoid hacking and other risks.
Scalability: The host should be able to handle sudden spikes in traffic.
Support: The host should have reliable and accessible customer support.
Space: The host should allow for multiple websites and high-quality media files.
Server location: The host should offer server options near the target audience's geographical location.
SSL: The host should enable SSL to ensure secure web browsing and comply with Google's guidelines.
Conclusion:
With the explosive growth of WordPress in recent years, it's no surprise that there are now countless hosting companies offering tailored services for WordPress users. However, with so many hosting options available, it can be overwhelming for newcomers to choose the right provider.
Fortunately, we've done the hard work and have identified some of the best WordPress hosting options perfect for beginners. While each provider is of high quality, we've further broken down the selection process to help you make an informed decision.
Once you've chosen your hosting provider, we have plenty of tutorials to help you create your WordPress website. From setting up your hosting to designing and launching your site, our comprehensive guides will take you through the entire process step-by-step. So why wait? Get started on your WordPress journey today!
Our top pick is Flywheel, which offers an unbeatable combination of affordability, features, and ease of use. However, if you're looking for cheap web hosting for your WordPress site, you can consider Bluehost or Hostinger, an excellent alternative that won't break the bank. We've even included a guide on installing WordPress on Bluehost to make the process seamless.