11 Best WordPress themes for authors you should know in 2023
Check out our review of the best wordpress themes for authors to get a stylish and modern wp theme for your author's website. 
Choosing the best WordPress theme for an author website is crucial to showcase your writing and building a strong online presence.
With the right theme, you can create a visually appealing website that helps you connect with your readers and build your author brand.
So, whether you are just starting or an experienced author, check out our list of the best WordPress themes for authors/writers.
We have created a guide for aspiring authors to help them create an author website without hassle. Check out the comprehensive guide for creating an author website.
How to find the best WordPress theme for an author
Choosing an authentic WordPress theme is key when creating an author website using WordPress. But when 1000's options are available, how do you know what to look for? Here's a checklist of essential features to help you find the perfect theme for your needs.
Flexibility: Look for a theme with plenty of customization options, so you can tailor the design to suit your needs.
SEO optimization: Choose a theme optimized for search engines to help your site rank higher in search results and attract more readers.
Fast speed: A fast-loading website is crucial for keeping visitors engaged and improving search engine rankings.
Compatible with page builders: A theme that works well with popular page builders plugins like Elementor or Beaver Builder can make creating and editing your pages easier.
Responsive design: Ensure your chosen theme is responsive and looks great on all devices, including smartphones and tablets.
E-commerce friendly: If you plan to sell books or merchandise on your site, look for a theme that supports popular e-commerce plugins like WooCommerce.
Compatible with payment plugins: Make sure the theme is compatible with payment plugins like PayPal or Stripe to make it easy for readers to buy your books.
Best WordPress themes for writers/ authors
As an author, you want your website to reflect your unique voice and style while being functional and user-friendly. To help you achieve this, we've compiled a list of premium WordPress themes for the Author to consider for your Author's website.
Book
Looking to start selling your book online quickly and easily? Look no further than the Book WordPress theme, which offers a sleek one-page design perfect for authors who want to get their work in front of readers fast.
You can choose between animated or static versions of your site, with the animated version providing smooth navigation, landing page blocks, and reviews to create a more engaging customer experience.
With a fully responsive layout, unlimited theme colors, and pre-installed Google Maps, your site will look great and function flawlessly on any device. Mailchimp compatibility and a live Twitter feed to make it easy to connect with your audience and build your brand.
Overall, the Book WordPress theme is a great choice for e-book authors who want a simple, effective site that drives conversions and helps them reach a wider audience.
Astra
Create a standout author website with ease using Astra – the versatile and user-friendly WordPress theme with everything you need to connect with readers, drive sales, and build your brand.
With its sleek and responsive design, crisp typography, and separate blog page, we can say for sure that Astra is the best free WordPress theme for blog having everything you need to create a standout author website that connects with readers and drives sales.
And with support for WooCommerce, multiple theme layouts, and social sharing icons, you'll have all the tools you need to create a fully functional online store and build your brand. Plus, with custom widgets, homepage sections, an image gallery, and an 'about me' section, you can personalize your site and make it your own.
Best of all, Astra is designed with SEO in mind, so you can be sure your site will rank well in search engines like Google. And whether you prefer to use popular page builder plugins or the WordPress block editor, Astra has the flexibility and functionality you need to create a site that reflects your unique style and vision.
Stockholm
Stockholm multipurpose theme is the jack-of-all-trades for launching blogs, personal author websites, or small shops for any niche – with over 140 pre-built website examples to choose from!
And the best part? Its not necessary to be a tech genius to get started. With Stockholm, you can import one of the pre-built demo websites and have your site up and running in minutes. That's right – no more fiddling around with code for hours!
The Stockholm wp theme is SEO-optimized and fully responsive on all devices, so your website will look and perform great no matter where your readers are browsing from.
And let's talk about those core features – 900+ font icon packs, smooth CSS3 animations, limitless customization, social share options, video background sections, and WooCommerce integration. With all these tools, you can create a website that truly reflects your unique style and personality.
In a nutshell, the Stockholm theme is the ultimate power tool for writers of any category. So, if you are looking for one of the best WordPress blog themes that can do it all, Stockholm is the one for you. Don't wait – get started today and unleash your inner creative genius!
Author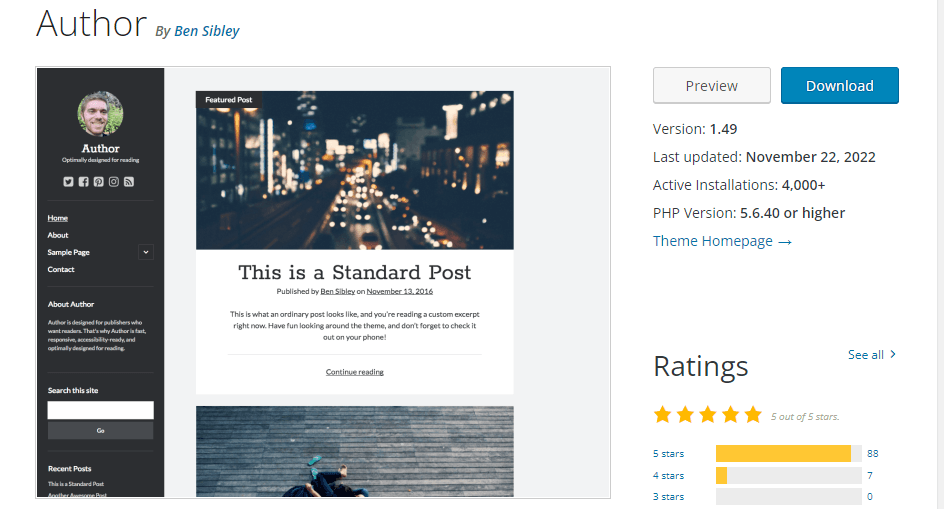 If you're an author or publisher looking for free website templates for writers that are both beautiful and accessible, look no further than Author WordPress theme. With its clean, minimalist design and lightning-fast load times, this is one of the best tumbler themes for writers designed to help your site perform at its best.
The simple two-column layout of Author is easy to navigate, with a sidebar and navigation menu to the right that keeps your content organized and easy to find. And with full compatibility with all standard WordPress plugins, including contact forms and other essential elements, you can customize your site to suit your specific needs and preferences.
Plus, thanks to its optimization for performance and accessibility, Author is the perfect choice for anyone looking to build a professional and engaging author website that stands out. So why wait? Give Author a try today and see the difference it can make for your online presence!
Writee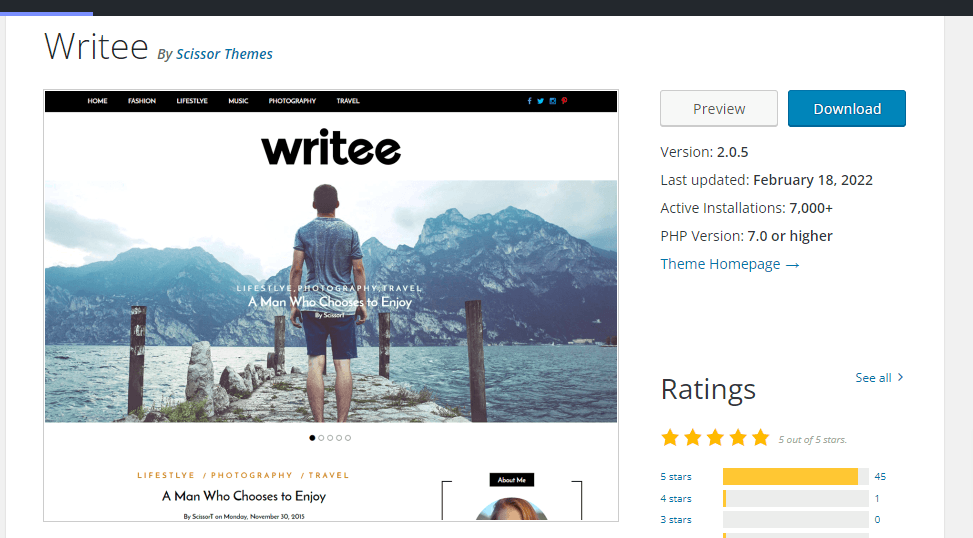 If you're a book author, writer, or blogger looking for a free WordPress theme that's functional and stylish, you won't want to miss Writee! With its stunning full-width boxed slider and clean, spacious layout, this theme is the perfect way to showcase your best content and connect with your audience like never before.
Featuring beautiful typography and a user-friendly navigation menu, Writee offers great readability and makes it easy for visitors to find and engage with your content. And with social sharing icons and an excerpt feature built right in, your readers can easily share your posts and spread the word about your work.
But that's not all: Writee is also designed to be compatible with RTL languages, making it the best WordPress theme for bloggers and authors worldwide.
OceanWP
OceanWP is another great free WordPress plugin with plenty of ready-to-use templates.
With free website templates for writers, including a template designed specifically for authors and writers, this powerful theme can help you create a beautiful, professional-looking site in just one click – no coding skills required.
Featuring a flexible layout and seamless eCommerce integration, OceanWP is the perfect choice for anyone looking to sell books online. And with translation support built right in, you can reach readers worldwide and share your work with a global audience.
But that's not all: With the easy-to-use live customizer, you can easily customize your theme settings and create the perfect look for your site. And with built-in SEO optimization, you can rest assured that search engines and potential readers alike will easily find your website. So why wait? Try OceanWP today and take your author website to the next level!
Odrin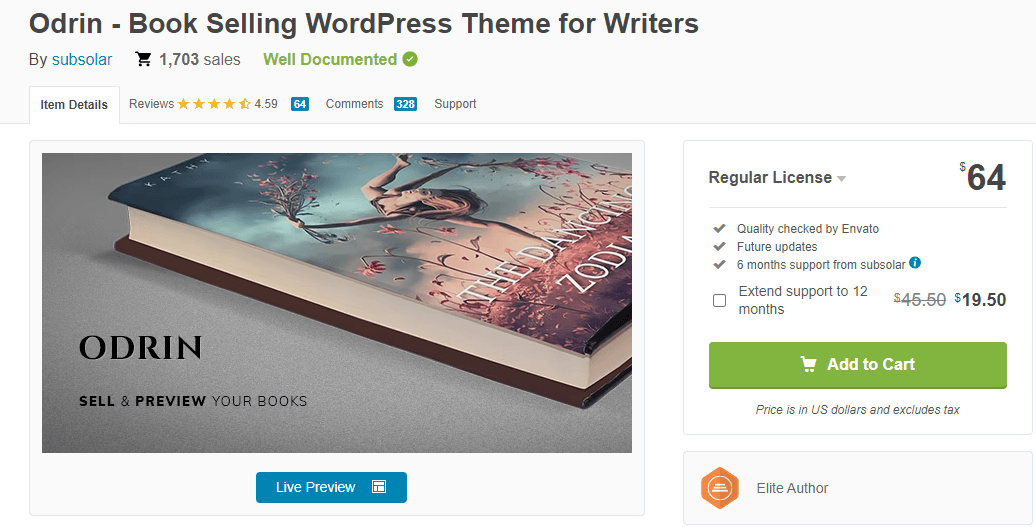 Odrin is the perfect choice for book authors who want to give their readers a modern, engaging buying experience. Plus, tons of pre-built templates and shortcodes are specifically made for authors, making it super easy to present your work. So, if you're looking for a professional and stylish way to showcase and sell your books, Odrin is worth it. It's got a responsive design that looks great on any device and a super cool Page Flip effect that'll make your readers feel like they're flipping through a real book! Plus, there are ten pre-built page templates to choose from, and it's even integrated with WooCommerce for easy bookselling. And get this – it has options for full-width pages, an Upcoming book page, and an Upcoming event page. Oh, and did we mention that updates are free? Odrin is the perfect choice for book authors who want to give their readers a modern, engaging buying experience.
Odrin lets you make unique event pages for live book readings or fan meetings. And it even has a cool "Coming Soon" book timer to build anticipation for your next big project.
3D Flip Book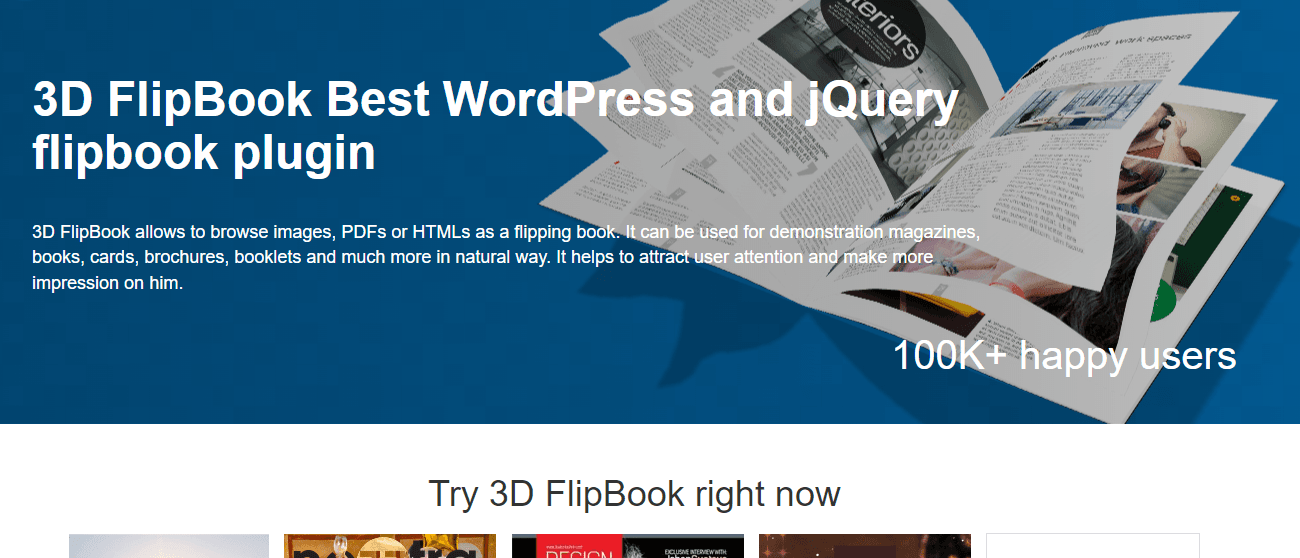 3D Flip Book is an awesome plugin you can install on your Author's WordPress website to give your readers the most realistic book-reading experience. The plugin offers awesome features like setting page thickness and flipping sounds, creating a 3D book opening, and even allowing readers to earmark and annotate pages like they would in a physical book.
Some other core features include a physics engine for that extra realistic feel, support for skins, and compatibility with PDFs, HTML, and images.
If you're interested, you should watch the demo video to see these features in action. And the best part? You can easily install the plugin on your site to get started!
Typology
Are you a writer who wants your words to take center stage? Then you have to check out the Typology theme!
What makes it unique is that it amplifies the significance of your text without relying on images. Instead, it focuses on beautiful typography and light layouts to draw readers into your poems or novels.
And let me tell you, the core features of this theme are seriously impressive. It's mobile-friendly and works on different browsers, so your readers can enjoy your work no matter their device. Plus, you have unlimited fonts and colors to play around with, and you can customize font sizes and capitalization for your text and headings.
But that's not all – there are several customizable layouts to choose from, so you can find the perfect one to showcase your writing style.
So if you're a novelist, poet, or Author who values clean text and sophisticated fonts, then the Typology theme is worth checking out. It's time to let your words shine!
Novela
Novela is another top WordPress blog themes that's a great treat for authors because of its minimalistic design. It has a sleek and minimalistic design that's easy on the eyes and offers a seamless reading experience with flipping pages and a table of contents for online reading. Plus, there are dedicated areas on landing pages where you can embed text samples from your book – how cool is that?
And let me tell you about the core features – they are seriously impressive! The theme is fully responsive, looks great on any device, and has a smooth page flip animation that will make your readers feel like they're flipping through a real book.
And if you're an author looking to sell your e-book, Novela has covered you with its selling options. Plus, with advanced custom fields, you can fill out your book's details in just one click.
There are over 600 Google fonts to choose from. Talk about customization! And don't worry about any technical issues – Novela offers free support and updates.
So, if you're an author who favors clean design and light sites, Novela is your theme. Don't let your readers miss out on the ultimate reading experience – grab Novela now!
Book Publisher
if you want to take your online bookstore game to the next level, then the Book Publisher theme is the ultimate weapon you need!
A theme for publishers, bookstores, book clubs, and indie writers, this perfect WordPress family theme offers invaluable features that will make your online bookstore stand out.
With Book Publisher, you'll get about pages for authors, icons for writers' social media links, and Author's books list. This means you can easily showcase your authors and their works, making it easier for readers to discover new books and authors they'll love.
And the best part? You can also deploy a blog in addition to a store. This means you can keep your readers and customers engaged with fresh content and updates while promoting your books and authors.
But that's not all! Book Publisher also offers customizable page layouts, a responsive design that looks great on any device, and pages for contacts, products, and authors. This means you can tailor your online bookstore to your unique needs and preferences.
So, whether you're a book club, bookstore, publishing house or agency, or an individual author, the Book Publisher theme has covered you. And the best part? It's completely free.
Typewriter WordPress theme
If you're an author or a blogger looking to create an impactful online presence, you'll need a WordPress theme that reflects your personality and style. Look no further than Typewriter – a premium, minimal, responsive WordPress theme designed with writers and bloggers in mind.
Typewriter offers a plethora of useful and interesting features that make your work easier, including unlimited colors and over 650 Google fonts to choose from. With demo content included, you'll be up and running quickly.
Typewriter's striking balance between beautiful design and functionality sets it apart from other WordPress themes. Its modern design is built with HTML5 and CSS3, making it responsive and retina-ready, so your content will look great on any device.
Typewriter WordPress theme also boasts custom post formats – including audio, video, standard, gallery, link, and quote – that allow you to present your content in various creative ways. Plus, with social share functionality, readers can easily share your posts on their social media accounts.
Other noteworthy features of Typewriter include an Instagram feed widget, a recent posts widget, a boxed layout option, and back-to-top button functionality. Typewriter integrates with popular WordPress plugins like Contact Form 7 and Slider Revolution, allowing you to add even more functionality to your website.
We hope you find our wordpress theme review useful in selecting your best author wordpress theme.