Best email marketing services
Best Email Marketing Services you should consider in 2023
Are you facing difficulty in selecting the best email marketing services that fits your small business needs?
Don't worry; we've got you covered. In today's fast-paced world, having a robust email marketing strategy is crucial for business growth, especially in 2023. We are here to assist you in maximizing your email marketing efforts.
Get ready to boost your marketing campaign with our comprehensive evaluation of the top 7 email marketing services for small businesses.
Continue reading to find out which can propel your business to greater height
Why is Email marketing considered an Important Marketing tool in 2023?
In 2023, email marketing will be one of the best advertising platforms for small businesses to maximize their return on investment. With an average ROI of $40 for every $1 spent, email marketing outperforms other marketing channels like SEO and keyword ads, which offer $22.24 and $17, respectively. Here are six reasons why email marketing services are a must-have for any small business:
 High ROI: According to the Direct Marketing Association, email marketing offers an average ROI of $42 for every $1 spent, making it one of the highest-performing marketing channels.
Cost-effective: Email marketing is an affordable way to reach a large audience. You can send personalized emails to your customers without incurring high costs with the right email marketing service.
 Targeted marketing: Email marketing enables you to target specific groups of customers with personalized messages, increasing the likelihood of conversion. By segmenting your email list, you can send tailored messages to customers based on their interests and behaviors.
Measurable results: Email marketing services provide detailed analytics that allows you to track the success of your campaigns. You can monitor open, click-through, and conversion rates to optimize your campaigns for better results.
 Customer retention: Email marketing is an effective way to keep your brand top-of-mind for your customers. By sending regular emails, you can keep customers engaged and informed about your products or services, leading to repeat business and customer loyalty.
Easy to automate: With the right email marketing service, you can easily automate your campaigns. This means you can set up emails to be sent automatically based on triggers such as a customer's birthday or a purchase they made, saving you time and effort.
Why Investing in the Best Email Marketing Service is Essential for Your Brand's Success
The specific features you need may vary depending on your business's unique needs and goals. Still, there are some specific email marketing terms that you should get familiar with before getting started. Check out some key features that can help you get the most out of your email marketing campaigns.
User-friendly interface and email editor – easy-to-use interface and email editor can make creating and sending email campaigns a breeze.
Contact management and segmentation – managing and segmenting your email list can help you send targeted messages to specific groups of customers, increasing engagement and conversions.
Automation and personalization options – automation and personalization can help save time and deliver more relevant content to your customers.
A/B testing capabilities – A/B testing can help you test different elements of your email campaigns to see what works best.
Advanced analytics and reporting – detailed analytics and reporting can help you track and measure the success of your campaigns and make data-driven decisions.
Responsive and mobile-friendly email templates – responsive email templates can ensure that your emails look great and are easily readable on any device.
Integration with third-party apps and services – integration with other tools can help streamline your workflow and enhance your email campaigns.
GDPR and CAN-SPAM compliance features can help you adhere to legal requirements for sending commercial emails.
Reliable deliverability and email deliverability monitoring – ensuring your emails are delivered to your customers' inboxes is crucial for the success of your campaigns.
Excellent customer support and resources – having access to great customer support and resources can help you get the most out of your email marketing tool and troubleshoot any issues that arise.
Constant Contact is an established email marketing service that has been operating since 1995, positioning it as one of the industry's oldest and most respected providers. This service offers a variety of useful features and tools that are well-suited for small business websites.
Here are some of the outstanding email marketing features that Constant Contact provides:
Constant Contact's drag-and-drop editor is easy to use and simplifies creating and sending emails.
The contact management and segmentation tools enable businesses to target specific groups of customers with personalized content and offers.
Constant Contact's automation and personalization options allow businesses to save time and deliver more engaging and relevant content to their audience.
A/B testing tools enable businesses to experiment with different elements of their email campaigns to optimize their results and increase conversions.
Advanced analytics and reporting provide valuable insights and data to help businesses track the success of their email campaigns and make informed decisions about future strategies.
Responsive and mobile-friendly email templates ensure that emails look great and function properly on any device.
Integration with other tools and platforms, such as social media and ecommerce, enables businesses to expand their reach and streamline their workflow.
GDPR and CAN-SPAM compliance features ensure businesses maintain legal compliance and build trust with their audience.
Constant Contact offers high deliverability rates and email deliverability monitoring tools to help businesses effectively reach their audience and avoid spam filters and other deliverability issues.
Top-notch customer support and resources, including phone, chat, and email support, as well as a variety of educational materials, webinars, and blog posts, help businesses get the most out of their email marketing and stay up-to-date with industry best practices.
Constant Contact offers several pricing plans to suit different business needs, ranging from a basic Email plan starting at $20 per month to more advanced plans that include additional features such as surveys and event management. The service also offers a free trial to help businesses get started.
If you're searching for reliable email marketing software to help you build your email list and boost engagement with your target audience, consider SendinBlue. As one of the fastest-growing email marketing platforms in Europe, SendinBlue offers a range of features and tools that are ideal for small businesses.
With its easy-to-use platform and drag-and-drop email editor, SendinBlue is a great choice for beginners with little to no email marketing experience. It also offers robust marketing automation tools that allow you to create workflows, send transactional emails, and segment users.
One of the key features of SendinBlue is its AI algorithms, which help you determine the best time to send bulk emails. This ensures that your audience receives your messages at the optimal moment, increasing the chances of engagement.
SendinBlue also offers a free email marketing plan that includes unlimited contacts, up to 300 emails per day, and advanced analytics and reporting. For more advanced features, there are paid plans, including Lite, which starts at just $25 per month.
In addition, SendinBlue offers a separate SMTP bulk b2b email marketing service that allows you to power automated or transactional emails from your WordPress site, making it a great option for large websites with lots of content.
With its robust feature set, user-friendly interface, and powerful marketing automation tools, SendinBlue is a top choice for small business websites looking to enhance their email marketing efforts in 2022.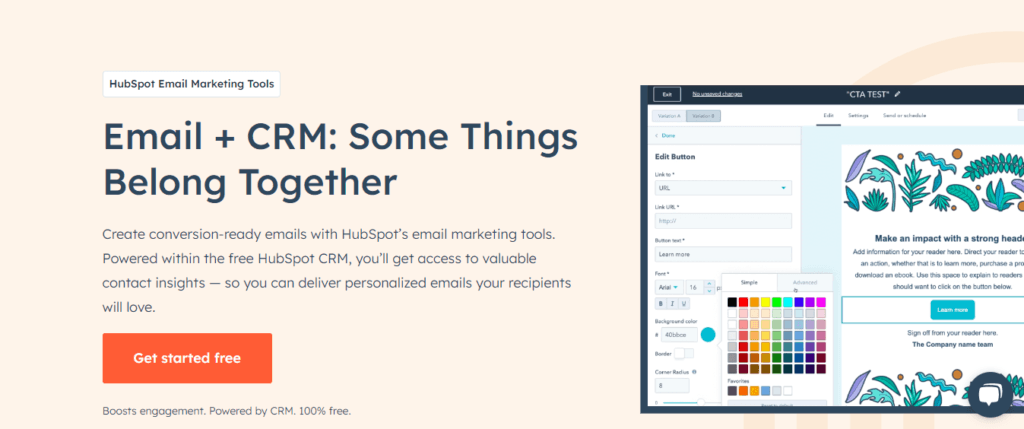 Discover the ultimate all-in-one marketing platform designed for small, medium, and enterprise customers: HubSpot. This powerhouse platform boasts a free email marketing service that offers a range of powerful automation features to grow your business, including an easy drag-and-drop email builder and native integration with the HubSpot CRM. With send time optimization, high email deliverability, detailed performance analytics, and access to automation workflows, sales tools, website builders, and operation hubs, HubSpot is an obvious choice for businesses of all sizes. And with a free plan that includes the CRM and all of HubSpot's free marketing, sales, service, and operations tools, you can send up to 2,000 emails and store unlimited subscribers. HubSpot's paid plans start at $45/month, which can unlock more advanced capabilities, making it a compelling choice for all your marketing needs.
Here are a few more powerful email marketing features
Personalization options: HubSpot allows for the personalization of emails based on a variety of subscriber data, including device type, country, and list membership.
Marketing automation: HubSpot offers powerful marketing automation capabilities, including drip campaigns and workflow automation.
High email deliverability: HubSpot prides itself on high email deliverability rates, ensuring that your emails get delivered to your subscribers' inboxes.
A/B testing: With HubSpot's email marketing tools, you can test different versions of your emails to see which performs best and optimize accordingly.
Detailed performance analytics: HubSpot provides detailed analytics and reporting to help you understand how your emails perform and make data-driven decisions
Hold onto your hats because Omnisend is the best enterprise email marketing tool to take your eCommerce business to the next level! With their omnichannel marketing automation solution, you can power up your email campaigns with SMS and web push notifications and pre-built automation workflows designed to drive more revenue.
Omnisend doesn't hold back with their free email marketing plan – they offer ALL the must-have features such as subscriber segmentation, A/B testing, performance reports, and even SMS and web push notifications! With easy integration with popular website builders and eCommerce platforms like WooCommerce and Shopify and hundreds of other business tools, Omnisend has got you covered! Though, many ecommerce stores including Shopify are using Klaviyo showcase tool to get their campaigns up and ready to target various industries, however Omnisend is equally equipped with best in-built SMS and email templates.
Their email builder is so easy to use you'll feel like a marketing pro in no time! With a wide selection of templates, you can create beautiful, on-brand campaigns that will leave your customers craving more. Plus, with Omnisend's powerful targeting and segmentation features, you can personalize your emails for each subscriber.
But wait, there's more! Omnisend offers built-in SMS, so you don't have to pay for a separate software, and their SMS feature allows you to send messages to 209 regions worldwide! That's some serious reach.
And the best part? Omnisend's free email marketing plan allows you to contact up to 250 subscribers, and their paid plans start at just $16 per month! It's time to take your eCommerce business to new heights with Omnisend.
Customizable Signup Forms: Omnisend's customizable forms let you create engaging, eye-catching forms that match your brand's personality and colors. You can also include different form types like pop-ups, landing pages, and more.
Dynamic Content: Omnisend's dynamic content feature lets you create personalized content blocks within your emails based on subscriber data like location, device type, and more. This helps to make your emails more relevant and engaging to your subscribers.
Product Recommendations: Omnisend's product recommendations feature allows you to automatically recommend products to your subscribers based on their browsing and purchase history. This can help increase revenue and engagement with your email campaigns.
Campaign Booster: Omnisend's campaign booster feature helps to automatically resend your campaign to subscribers who did not open the original email, with a new subject line to increase the chances of them opening it.
SMS Automation: Omnisend's SMS automation feature allows you to set up automatic SMS messages based on subscriber behavior, such as abandoned carts or product recommendations. This can help increase engagement and revenue for your eCommerce business.
Love it or hate it, Mailchimp is one of the world's most widely known email marketing service providers. While it may not offer the most advanced features on the market, many people appreciate the platform's simple interface and an easy-to-use drag-and-drop email builder.
Plus, Mailchimp is known for its forever free plan, which allows you to send up to 12,000 emails per month to a list of 2,000 subscribers. However, if you're looking for more advanced features like advanced segmentation or multivariate testing, you'll need to upgrade to one of their paid plans.
You can create stunning, professional-looking emails in minutes, even without design experience. And with features like autoresponders and contact segmentation, you can be sure that your emails reach the right people at the right time.
Mailchimp also customizes delivery time based on your subscribers' time zones and geolocation-based segmenting. And with easy integration with platforms like WordPress, Magento, and Shopify, you can start building your email list and reaching customers in no time.
However, Mailchimp falls a little short compared to other providers on our list when it comes to marketing automation. While they have added many advanced features in recent years, they are not as sophisticated as other platforms like HubSpot, Drip, or ConvertKit.
Mailchimp's support is offered by email, live chat, and a knowledge base. However, some users have reported that their support can be slow and not as helpful as other providers like Constant Contact.
The forever free plan is a great way to get started with email marketing, but it does have its limitations. You can only send up to 12,000 emails to 2,000 subscribers, and you'll have to display Mailchimp's branding in your emails. Additionally, the plan doesn't include advanced features like send-time optimization or multivariate testing.
If you want to upgrade, Mailchimp's paid plans start at $10/month for up to 500 subscribers. However, if you want more advanced features like audience segmentation and comparative reporting, you'll need to opt for their $ 299-per-month plan. So, if you're looking for an email marketing solution that's easy to use and wide reach, Mailchimp might be a perfect choice.
Which is the best email marketing service you should opt for: Our recommendations
In conclusion, when it comes to email marketing, choosing the right service provider can make all the difference. For small businesses, Constant Contact offers a user-friendly interface and a range of features at an affordable price. For those looking for an all-in-one solution, HubSpot offers an extensive set of marketing, sales, service, and operations tools, including email marketing, at a competitive price. And for e-commerce stores, Omnisend offers powerful automation features and integrations with major e-commerce platforms.
But what about the cost? Many businesses may wonder, "how much to charge for email marketing?" The fact is, there is no one-size-fits-all answer. The cost of email marketing can vary depending on factors such as the size of your email list, the complexity of your email campaigns, and the level of automation you require. However, with the right email marketing service provider, you can be sure that you are getting the most value for your investment, regardless of your budget.
Ultimately, your business's best email marketing service will depend on your unique needs and goals. By considering each platform's features, pricing, and support options, you can make an informed decision and choose the email marketing service that's right for you.