Webhost vs Domain: What is the Difference (Explained)
When starting websites, most beginners get confused about WebHost and domain and try to figure out the difference between WebHost and domain.
These two things are different, and in this blog, we'll explain how these two are separate.
What is a domain name?
You've probably heard the expression, "it's like having your URL." But what does that even mean?
A domain name is a label that identifies an item in cyberspace. It's like putting a label on something, like saying, "This is my cat" or "This is my car."
Domain names are also called Internet addresses or top-level domains (TLDs) because they label things like websites, email addresses, and other identifiers on the Internet.
When you enter a domain name into your browser's address bar, it takes you to the page identified by that domain name. If you order at www.example.com, you'll go to www.example.com/products/brownies; if you type in http://www.example.com/, you'll go to http://www.example…
When you buy your domain name, you'll have it for a year mostly. But if you ever want to change the domain name, you can do so anytime. You'll also be able to transfer ownership of the domain name from one website owner to another without having to pay someone back first.
Domain names are also important because they help prevent confusion between two similar businesses. For example, if you're selling shoes online and someone else is selling shoes online, both of you might want "shoes" as your domain name—but only one of you can own it. As a result, Google will show the other company's site before yours when someone searches for "shoes."
What are the best Domain providers?
The domain name is available from several registrars for as little as $10/year, and you can point it to any of your web hosting companies. Usually, the domains are available with yearly plans by default, and after that, you'll pay the renewal price to keep using them after the expiry date.
Before you lock in any domain registrar for your domain name, check some add-on services that might be useful afterwards. Such as WhoIs privacy, where you can check who owns the websites, how's the support if you face any troubleshot, and what types of extensions they provide ( .com, .uk, .net or .org).
Some of the highly reliable and recommended domain name registrars are as follows;
Namecheap: Namecheap provides awesome domain names starting at $9 with many useful offers, such as WhoIs protection and a very intuitive domain management panel.
GoDaddy: If you are looking for a domain provider who provides bulk domains at affordable prices, go for non-other than GoDaddy. However, the TLDs with .com extension are expensive, starting at $18/year.
Hover: Hover is a relatively new player in the domain name industry. They charge $13 for domains; email addresses are included with every purchase.
Google Domain: Google Domain offers competitive prices and free add-ons like automatic WhoIs privacy.
What is Webhosting, and why do websites need it?
Webhosting is an online server where all your website data is stored and transferred, or you can say it's like a home to your website data hosted on a cloud server rather than any physical computer.
Webhost is a company that offers Webhosting service and provides servers, bandwidth, hard drive space and other related services to host your website. Acquiring a web hosting service is to make it accessible to other internet users.
The Webhosting service can host your website on any of their servers per your hosting plan resources.
They have all types of hosting plans that you can acquire for a monthly or annual fee. At first, you may find it unnecessary expense because plenty of free Webhosting available. Still, free Webhosting is not ideal for growing businesses or bloggers because they offer limited storage options. And when your blog or website grows, you may end up buying expensive upgrades or payment plans.
You may be wondering: "Why do I need a WebHost?" Well, there are many reasons why having a hosting plan with a WebHost is the best practice for running your site. The most important reason is security—you want to ensure that the person who has access to your site's files doesn't have malicious intentions (like stealing information from users). The second reason is speed—the faster your site loads on your audience's browsers, the better!
Best Webhosting providers
Many hosting service providers rent out server space for reasonable monthly/annual subscriptions.
Some of the most popular web hosts are:
Bluehost: Bluehost is one of the most recommended and reliable Webhosting that offers domain names for free with most web hosting plans. Its primary program starts at $4.95/ month.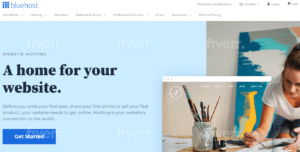 A2 Hosting: A2 Hosting is managed by a group of professionals with over ten years of dedicated experience in the domain name and web hosting industry. Their professional services and affordable pricing make them a top choice for small to medium businesses.
Hostinger: Hostinger provides top-notch Webhosting service for small enterprises and large organizations along with web application acceleration, one-click installation of WordPress-powered websites, cPanel control panel for all significant shared hosting tasks, daily backups of your files and databases — all for less than ten bucks per month. Pricing starts at $1.99/month with a free domain and SSL.
GoDaddy: GoDaddy offers excellent pricing and tremendous flexibility in its hosting packages.
Pricing for the cheapest GoDaddy account starts at 3.99 pounds/mo with free SSL and free domain registration for the first year.
How Domain name and Webhosting are correlated in making a website possible
Domain name and Webhosting go hand-in-hand to make sure your website is running successfully and customers get an easy way to navigate to your website.
Or we can say that the domain name system is an online address book of different websites that gets updated regularly, and web hosting works like a large warehouse where all of the website's data get stored.
In other words, a Domain name gives your customers something to associate with your brand. In contrast, the hosting portion provides that information with a physical location where anyone can access it.
Are domain name and web hosting both necessary to build a website?
Yes, you need both a domain name and a hosting account. DNS takes an IP address and converts it into a name your computer can work with.
When you buy a domain name, you owe it for a specific period, most likely for a year, and after that, you'll renew your plan.
Once you have bought your domain name, you'll have to buy web hosting to store your website data and update your domain name in the web hosting provider setting.
It's possible to buy both Webhosting and domain names from the same company or different companies. Usually, the domain name cost starts at $14/year and web hosting for a small business website/ blog may cost you $1.99/ month from Hostinger or A2 Hosting.
Bluehost's basic Webhosting plan starts at 2$2.99/ month; also, you will get a free domain name for the first year.
Once you are done with the domain name and Webhosting, you can start working on your website content.
Is it possible to move your domain name to another company
Yes, it's normal to transfer your domain name to another company. As a domain name owner, you can use it or transfer your domain to another company if you like.
For example, suppose you bought a domain name from the domain. Com and purchase a web hosting account from Hostinger if you want to move your domain name from the domain. Com to Hostinger to manage your account quickly. You can do it. You can surely do it by following a step-by-step guide provided by your domain provider. Or, you can hire an expert to do it for you.
Can I move my website to any other web hosting provider without changing my domain name
Yes, you can do it because you are the owner of your domain, and you can point it to any other web hosting company.
For example, if you were using Bluehost for your website hosting and now want to move to GoDaddy Webhosting. You can move your website from one host to another by transferring files. Once you share data, you can edit your domain settings and redirect it to your new host.
Wrapping Up
So, here is our blog about the difference between a web host and a domain name ends. After reading our post, I hope you can easily distinguish between a webhost and a domain.
To recap;
Webhost: Your web hosting is the platform that allows your website to be viewed by others.
Domain name: Your domain name is the online address for people to find your website.
To start over quickly, we recommend using Bluehost or A2 Hosting because both hostings provide excellent web hosting services. Also, your domain will be registered for free for the first year.